See:
Koen E. A. van de Sande, Theo Gevers and Cees G. M. Snoek, Evaluating Color Descriptors for Object and Scene Recognition, IEEE Transactions on Pattern Analysis and Machine Intelligence, volume 32 (9), pages 1582-1596, 2010. [PDF] [BibTeX]
for an evaluation of color descriptors carried out using this software. The paper provides a structured overview of color invariant descriptors in the context of image category recognition. The distinctiveness of color descriptors is assessed experimentally using two benchmarks from the image domain (PASCAL VOC 2007) and the video domain (Mediamill Challenge).
Besides our evaluation, these color descriptor have proven to be highly effective under many circumstances. See also our performance in the TRECVID 2008/2009 video retrieval benchmark, the ImageCLEF 2009 photo annotation task and our winning position (UvA submission = color descriptors + machine learning techniques) in the PASCAL VOC 2008 object classification competition. View our presentation at the PASCAL VOC 2008 workshop for additional information.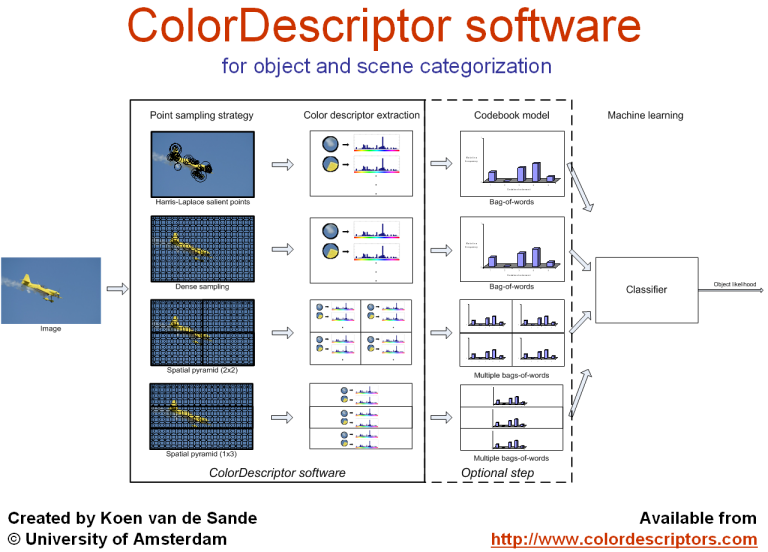 The download includes binaries for the following platforms:
GPU-acclerated Windows (64-bit), with Nvidia CUDA acceleration
Windows (32-bit)
Windows (64-bit), with Intel MKL acceleration
Linux (32-bit)
Linux (64-bit)
Mac OS X (10.7 Lion 64-bit)
David G. Lowe, Distinctive Image Features from Scale-Invariant Keypoints, IJCV 2004.
Krystian Mikolajczyk and Cordelia Schmid, A Performance Evaluation of Local Descriptors, TPAMI 2005.
Joost van de Weijer, Theo Gevers and Andrew Bagdanov, Boosting color saliency in image feature detection, TPAMI 2006.
S. Lazebnik, C. Schmid and J. Ponce, Beyond bags of features: Spatial pyramid matching for recognizing natural scene categories, CVPR 2006.
J. Zhang, M. Marszalek, S. Lazebnik, and C. Schmid, Local features and kernels for classification of texture and object categories: A comprehensive study, IJCV 2007.
G. J. Burghouts and J.-M. Geusebroek. Performance evaluation of local colour invariants, CVIU 2008.
J. C. van Gemert, C. J. Veenman, A. W. M. Smeulders, J.-M. Geusebroek. Visual Word Ambiguity, TPAMI 2010.
The site and its contents are © 2008-2022 Koen van de Sande, except for the files (and other contents) that are © of the respective owners. This site is not affiliated with or endorsed by my employer. Any trademarks used on this site are hereby acknowledged. Should there be any problems with the site, please contact the webmaster.